February 16, 2023
Spring is coming (and Ralph is moulting...)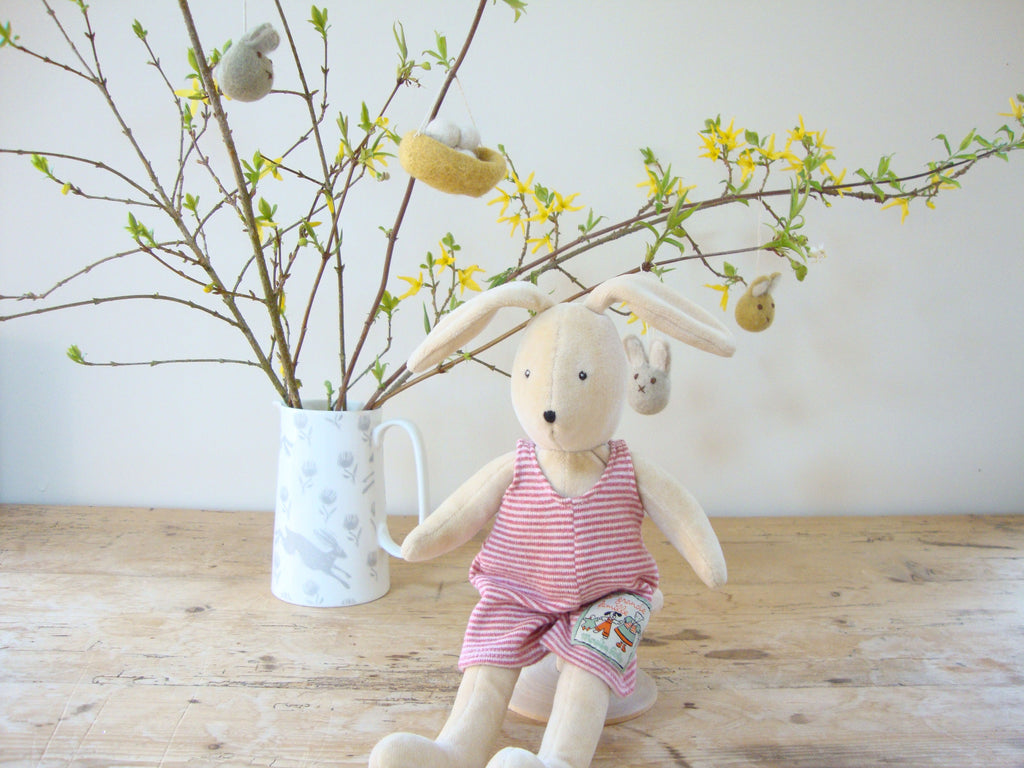 I've made a new picture for the home page today - trying to capture the turn of the season with a nod to winter (the Winter SALE continues, and leaves are swirling around) but with the arrival of some spring flowers and colourful bunnies and birds.
And I have created a new department on the website for Easter and Spring - think bunnies, lambs, gardening things... 
I have lots of new things on their way, including the most exciting product launch I've seen in ages , a new range by Moulin Roty called 'The Three Little Rabbits' - I mean how perfect for Cottontails is that! I hope they will all be here by the end of February - and I'll be sure to write a new entry about their arrival.
Here's Sylvain flicking through the new Moulin Roty catalogue - he is excited to meet 'The Three Little Rabbits'...
Meanwhile, Ralph is also joining in with the turning of the seasons - with a massive moult. In all my years of house bunnies I have never known a bunny like him for moulting - it's almost a low-level constant thing, but then every few months there he makes a great effort and there is enough fur to make a new Ralph! 
I try so hard to brush him - have bought so many different brushes, tools and gloves - but he loathes it. He loves being stroked though, so the best approach is lots of stroking with the occasional sneaky bit of tuft pulling - but as soon as he cottons on, he is off. 
Today I am going to make him a 'grooming box' - my own creation - a cardboard box with multiple doors (which he loves) but I will make all the doors too small so he has to squeeze through and (hopefully) lose a little loose fur on the way. 
Otherwise it's stroking, sneaky-grooming, ensuring LOTS of hay and water to keep him digesting, and a good amount of vacuuming. (The carpet, not him.)