The Story of Cottontails
In a nutshell, Cottontails Baby is a small independent toy shop run by me, Charlotte, and my house rabbit Ralph from our home in the Herefordshire countryside.
Established in 2003, Cottontails has evolved over the past 20 years, and grown-up from a tiny high street shop to the much-loved online store you see today. But several things have never changed - the carefully chosen lovely toys, the individual and friendly service, and - of course - a wonderful array of bunny rabbits!
Here's a little bit more about Cottontails, me, and the bunnies who have inspired everything…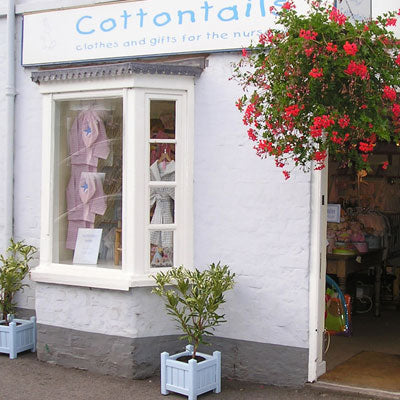 First there was the shop...
Once upon a time, back in 2003, I took a very deep breath and opened a small toy shop on the high street in Pershore, Worcestershire. I chose a toy shop not because I had children of my own (I still don't - I have bunnies instead!) but because I love 'little things' and had a dream of creating the kind of shop you might find in a Beatrix Potter book.
I had £1000 in savings and a scary bank loan - and looking back I still don't quite know where I found the self-belief and confidence to do this, but somehow I did. I had a lot of help from my mum and, on special occasions, my house rabbit Humphrey would come into the shop for the day.
..and then came the website
A couple of years later I launched a website to complement the shop - and found a niche offering a really comprehensive range of Moulin Roty toys. The online sales really took off - oh, it was so much easier in those days!  - and so, when I moved to Herefordshire in 2009, I made the decision to close the little high street shop and Cottontails Baby became the online toy store you see today.
In the years since I have worked from various spare bedrooms, dining room tables and rented offices, and been ably assisted by three bunnies - Humphrey, Rudolph and Ralph.
Today I am based in a lovely workshop in our garden in Herefordshire - it is cosy, convenient and packed full of toys. Most days I carry Ralph across the garden with me to 'help'  - in many ways the Beatrix Potter dream has come true. 
But of course it's not always easy and at times I have had to take on other jobs to make ends meet. Online retail these days is tough - I simply can't compete with the giant competitors that exist today - but I keep going because I love it, and somehow there are always just enough sales and customers and happy moments to make it all worthwhile. 
And I try to lean in to what I can do well - the little personal touches, the handwritten notes and the fact that an order from Cottontails will be picked, wrapped and cared for by one person who truly cares about your order from beginning to delivery. 
The Cottontails Bunnies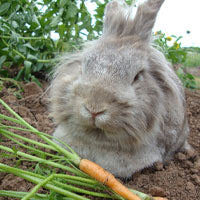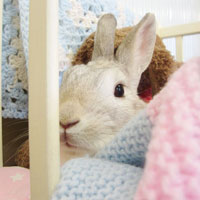 I hope you will smile as you wander through the website, browsing products and delving into my little corner of the online world…
And a heartfelt thank you to all my customers.
Charlotte & Ralph (the shop rabbit) x